Beskrivelse
The newest additions to FOR-A's Hanabi series of portable video switchers, the HVS-100 and HVS-110 boast exceptional cost performance. Both mixers inherit and improve upon the diverse functions and features of the popular HVS-300HS, including mixed HD/SD input, frame synchronizing, re-sizing engine, 2.5D wipe effects, DVE, Chroma keyer and DSK. The HVS-100 and HVS-110 also have a built-in Web server that lets you change settings from a PC or a tablet. A clip memory feature has been added to the still store to support playback of video or animations and enhances productions through the use of CG wipes, while the multi-viewer meets a diverse range of monitoring needs. The equipment can be used in all types of locations, including live events, sports, news studios, OB vans, editorial offices and presentation venues, making it the ideal tool for shaping the imaginative ideas of video creators.
HVS-100/110 have many new functions!
4K Square Division (SQD) signal Input/Output available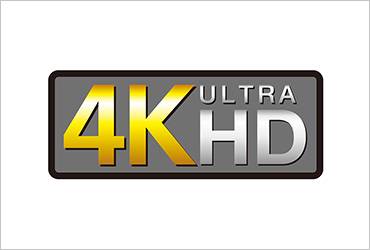 HVS-100/110 units have been upgraded with new functions described as follows:
Progressive-format, 4K Square Division (SQD) signal support
Level-B signal input support at 1080/59.94p, 50p
Audio playback support
Additional Non-Border display function support and 4K mode layout on Multi Viewer
Multi Viewer split patterns significantly enhanced, from 8 to 20 types
VDCP Over IP protocol available
External keyer control over DSK-400.
HVS-100PCI option supports 1080/29.97p, 25p, 24p, 23.98p
HVS-100PCO option supports 1080/29.97p, 25p, 24p, 23.98p. PC-resolution output also supported at 1080/59.94p and 50p.
For more information on HVS-100/110 new functions, access this link:
To update your HVS-100/110 unit with the latest features, contact your FOR-A sales representative.
Introduction of main features in HVS-100/110
Product Line-up
The HVS-100/110 come in two models: one with separate main unit and control panel, and one with compact, integrated design, both of which can be adapted to a wide variety of applications and operation configurations.
HVS-100: Separated Main Unit/Control Panel Type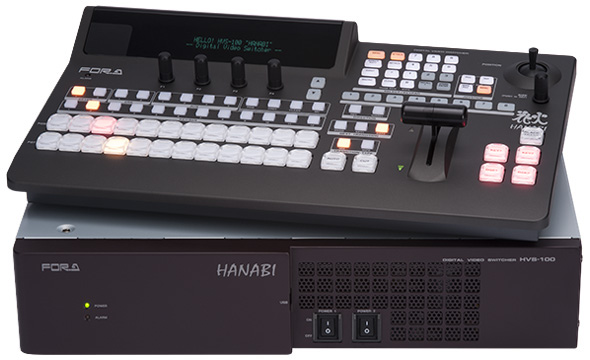 HVS-100 (bottom) and HVS-100OU (top)
The control panel has been laid out specifically with professionals in mind with a design that leverages the knowledge of expert operators. It includes dedicated bus buttons, AUX buttons, a fader controller and direct user buttons for various functions. The main unit offers exceptional expandability to facilitate the addition of a redundant power source unit and various input/output cards.
HVS-110: Integrated Main Unit/Control Panel Type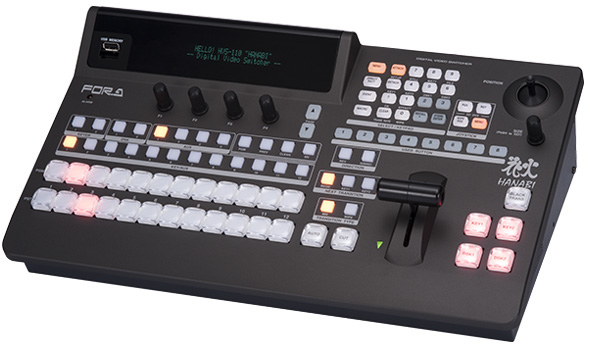 Featuring operability almost on par with the HVS-100, the HVS-110 also boasts a compact design enabling simple portability. The inclusion of ample video input and output functionality makes it ideal for use in small broadcasting vans and broadcasting helicopters. Despite being portable, a redundant power source is also possible using an optional AC adaptor.
Reasons to Buy
Compact, multi-functional, and very affordable. Unbelievable cost performance!
The compact HVS-100/110 come equipped with multiple, unique functions, never before seen in smaller switchers, offered at the lowest prices ever. Compact, multi-functional units at very affordable prices, all with enhanced performance…. what's more, the units can be used in all types of locations, including news studios, OB vans, at live events, educational institutions, and for presentations. The HVS-100/110 are perfect for putting your idea into practice.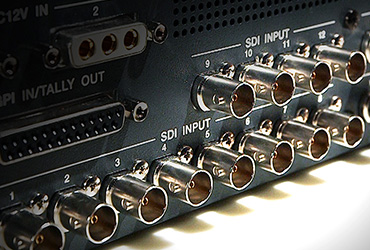 Asynchronous input capability. Frame synchronizer on all inputs
With frame synchronizers on all inputs (HVS-100), you don't need to provide genlock for any input devices. What's more, it is easy to add video signals from sources that do not have the ability to genlock like computers or low end cameras. The Frame sync also allow for full proc amp control on any input. For situations where inputs can be genlocked, the frame sync function can be turned off on any individual input. Frame synchronizers and proc amp on all inputs simplify your system.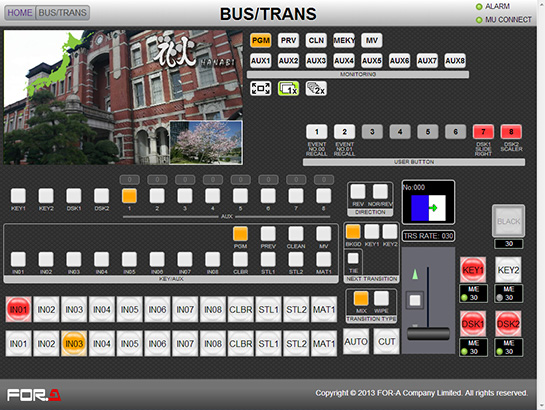 Improved GUI. Control over IP
The HVS-100/110 can be controlled by tablet, Smartphone, and PC via web browser. The GUI screen is based on our easy to-use control panel. What's more, the switcher can stream any of its output video to the web interface. Up to three types of control can be used simultaneously: Control panel, web interface or any number of aux remotes.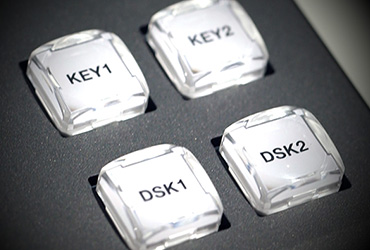 Resizing and effects with no limitation. 4 Keyes with 2.5 DVE
2 keyers and 2 DSKs are equipped with dedicated 2.5D DVE. Resize position and effects can be assigned separately for each Keyer. We also provide an assignable chroma key based on FOR-A's industry leading chroma key technology. FOR-A's many years of Virtual Studio engineering knowledge allow us to provide a chroma key that rivals the best standalone units on the market. No need for extra chroma keyers in CG creation.
2 Still Stores with video playback.
The HVS-100/110 support 2 channels of still store function and each still store can record video files up to 227 frames in length. Still images or video can be captured from any input, imported from USB Memory or through a LAN cable connection. The video function is perfect for logos, animations or CG Wipes. CG wipes can be created easily in the dedicated menu section. In addition, any unused input can be an additional still store using the frame sync function.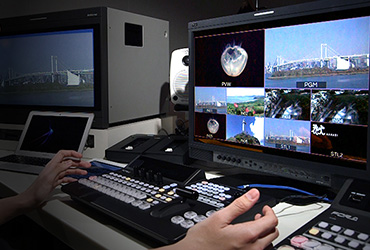 High-performance and versatile. Multi Viewer for monitoring
The FOR-A HANABI series of video switchers are the first to come equipped with a multi viewer, now an essential function for video switchers. The HVS-100/110 are capable of 2/4/5/7/9/11/16 split multi viewer. Input/ Output sources can be displayed freely with title, tally, and audio level.
Great for multi screen stage events. Advanced AUX
Multiple AUX outputs can be used more than just for monitoring. The HVS-100 and HVS-110 provide the ability to assign DSK to AUX outputs for keying and dissolve or cut between sources. One small switcher can provide all the different outputs for a large live staging event or a broadcast with multiple on-set displays.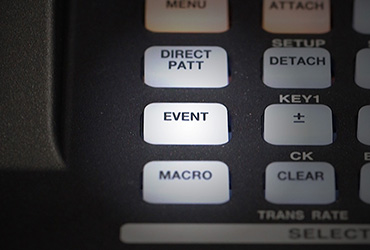 Stage event recalling with effects. Event memory with recall transition interpolation function
The HVS-100/110 are capable of memorizing up to 100 events including parameters, key, and DVE functions. Any memory can be re-called from the memory section or assigned to a user button for quick recall. Parameters are automatically interpolated while an event is recalled to provide a smooth transition. In addition to the event memory, a variety of system memories allow for the full switcher set-up to be recalled. This function is perfect for recalling operators preferred settings or switching between different productions.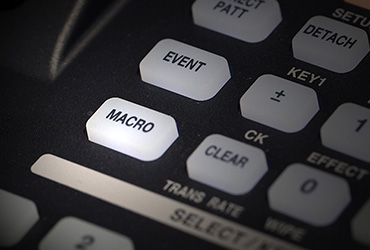 Powerful Macro function
The powerful macro function allows a series of operations on the control panel to be memorized in real-time. This means a complex series of keys and transitions can be rehearsed, and then learned by the switcher as a Macro. After that a one button trigger can perform the macro. The HVS-100 and HVS-110 are probably the least expensive switchers ever to offer a Macro function.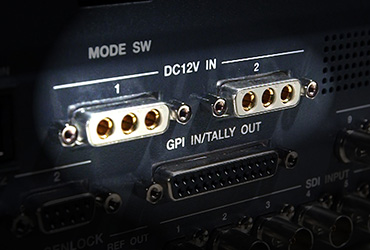 In case…. Redundant Power Supply (optional)
Fault tolerance is an important factor in choosing your switcher, no matter how small the switcher is. We only employ consumables such as power units and cooling fans that meet our strict quality control standards. FOR-A uses the highest quality power supplies, but having an option for redundancy provides peace of mind.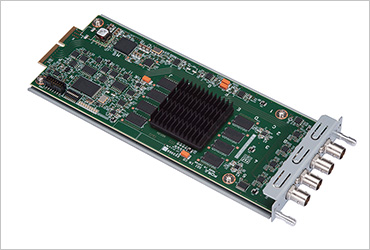 Input/ Output expansion options for a perfect system
The HVS-100 has 3 slots to expand the number of inputs or outputs. In addition to 8 HD-SDI inputs, 4 HD-SDI outputs and 1 HDMI output (standard), various inputs or outputs can be added including HD/SD-SDI, analog composite/ component or, RGB/ HDMI. These option cards can be used to customize your switcher or provide for future expansion.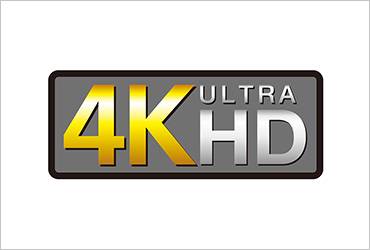 The future… 3G and 4k upgrades
Systems supporting 3Gbps 1080/59.94p or 50p are becoming a viable option to consider as we head towards a higher-resolution 4K era. The HVS-100 and HVS-110 have been designed to offer future upgrades to 3G (1080P) and even 4K
HVS-100/110 has many new functions!
4K Square Division (SQD) signal Input/Output available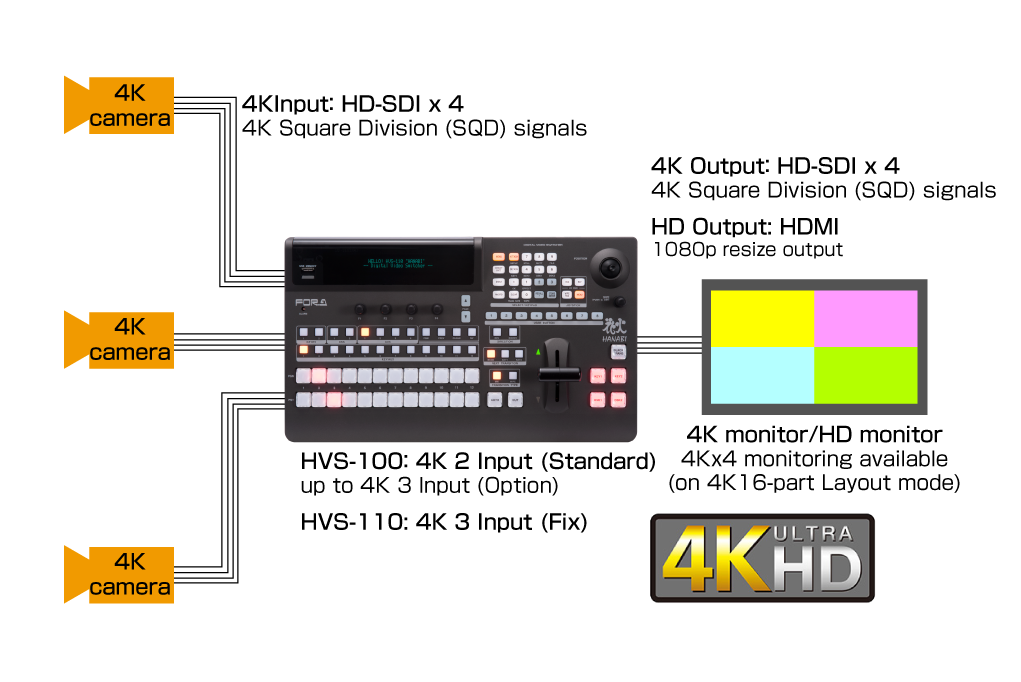 Progressive-format, 4K Square Division (SQD) signal support
HVS-100/110 units already support Progressive Segmented Frame formats such as 1080/29.97PsF, 25PsF, 23.98PsF, 24PsF. Support for additional progressive formats, 1080/29.97p, 25p, 23.98p, 24p, has been added.
HVS-100/110 is now able to use 4K camera Square Division (SQD) signals on 29.97p, 25p, 23.98p and 24p, without HVS-100EXP3G optional software.
Level-B signal input support at 1080/59.94p, 50p
HVS-100/110 have a new Level-B/A converter function on input signals that allows Level B of 3G-SDI signals to be input onto 1080/59.94p, 50p signals.
Level-A and Level-B signals are combined to system equipment on the input-side of the switcher, which converts Level-B signals to Level-A, and outputs all signals as Level-A. (Output-side fixed as Level-A.)
Audio playback support
Play back clips with audio. Sound effects can be mixed on switched videos using CG-Wipe effects.
To utilize this function, download the audio data to the HVS-100/110 in advance.
Additional Non-Border display function support and 4K mode layout on Multi Viewer
Selection of Non-Border Muti-Viewer function is now supported.
In 4K mode, Square Division (SQD) signal able to assign each quarter window, and display the 1080p Re-sized output.
In 16-part layout mode, maximum four 4K video images are able to be monitored simultaneously via display.
Multi Viewer split patterns significantly enhanced, from 8 to 20 types
Multi Viewer windows enhanced from 8 patterns to 20 patterns. Now able to select from 2 to 16 part windows.
VDCP Over IP protocol available
Support for VDCP Over IP protocol allows video server control via a LAN connection.
HVS-100PCO option supports 1080/29.97p, 25p, 24p, 23.98p. Also PC-resolution output supports at 1080/59.94p and 50p formats.
The HVS-100PCO PC (HDMI/VGA) output expansion card option also supports PC output at 1080/29.97p, 25p, 24p, and 23.98p in system video formats.
In addition, even in a progressive system video format, 1080/59.94p or 50p, PC resolution can now be output. Click here for corresponding format and refresh rate details.
External keyer control over DSK-400
HVS-100/110 are now able to control the DSK-400 (supports 4K (UHD)). A compact system can be built to operate a DSK-400 using only an HVS-100/110 controller.
Standard 8, Maximum 14 Inputs; Standard 4 + 1, Maximum 9 outputs (HVS-100) 12 Inputs; 8 + 1 Outputs (HVS-110)
HVS-100
8 HD/SD-SDI inputs, 4 HD/SD SDI outputs and 1 HDMI output come as standard. Mixed HD/SD input is supported in the standard configuration. The 5 outputs can all be freely assigned. Three slots enable various inputs and outputs to be added, such as analog component, analog composite, HDMI, and VGA in addition to more HD/SD-SDI.
HVS-110
12 HD/SD SDI inputs, 8 HD/SD-SDI outputs and 1 HDMI output come as standard. Mixed HD/SD input is supported in the standard configuration. The 9 outputs can all be freely assigned.
Frame Synchronizers
Every input in the HVS-100 and 8 inputs in the HVS-110 are fitted with frame synchronizers that enable switching of synchronous and asynchronous video signals. Installation of optional expansion cards supports asynchronous picture input from PCs, etc. Each input is also equipped with a process amplifier capable of adjusting the video level and chroma level, etc. of the input signal.
Re-sizing Engine
Up-resizing engines are provided on 4 of the standard inputs. This achieves a fully mixed SD/HD environment with the switcher alone. The optional input cards also have re-sizing engine. This is readily suitable for re-sizing not only SD signals but also PC video.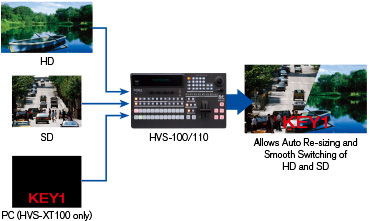 2 Keyers and 2 DSKs
Further proof of the power of these new small mixers is that they come as standard with 2 keyers, 2 DSKs and 4 powerful 2.5D DVE engines. An advanced, high quality Chroma keyer can be assigned to any one of the two M/E Keyers or two Downstream Keyers. The 4 powerful DVE engines, can be assigned to any keyer or used for transitions etc, and with their standard 2.5D ability, allows flexible creativity for the operator to enhance productions.
Abundant Transitions and DVEs
Cut, mix and wipe can be chosen for the transition. Diverse DVE wipes include 100 2.5D wipe patterns. Along with wipes, effects like mosaic and defocus are also provided.
2 Still/Clip Stores
Powerful, high capacity clip stores are now a standard feature. Each store can hold up to 227 frames of HD video. Images can be recorded and played back from incoming video or PGM o/p, or animations transferred over FTP (.bmp, .jpeg, .tga sequences). Clip store images can be used as CG wipe transitions, to further enhance possibilities and add production value. In addition, should both stores be used for clips, then still images can still be used as well, by the standard feature of using some of the inputs as still stores.
20 kinds of multi-viewer split patterns able to be selected as standard.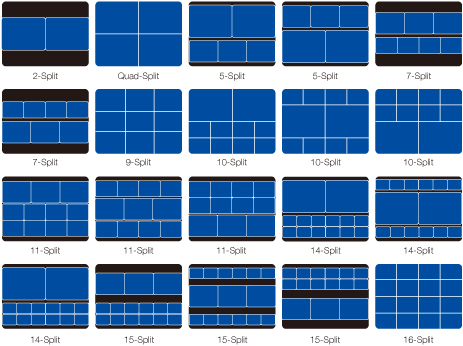 Display channels can be freely assigned, allowing assignment of not only input source but also PGM output. Each channel offers title display and tally display functions.
Event Memory and User Button
The main unit is equipped with an event memory function allowing up to 100 events to be stored. Event memories can be simply recalled by the user buttons. Mixer set-ups and useful operational tools such as key set up, DVE position/size etc can all be stored in event memories. Operators can freely set the transition time and effect for loading events. By setting up in advance, event memories can bring extra power and creativity, simply by pressing buttons during the live event. User buttons can also be used for many other features, such as instant navigation to a selectable menu page, or grab a still, or send a GPI, or preview a key etc as well as many other functions to make life easier in a live production.
Macro Function
A macro function enables you to store and register a series of operations and then perform complicated operations with one push of a button.
Freely Assignable DSK
The 2 Downstream keyers can be assigned to either the M/E PGM, M/E PST or an AUX output. As we also include the ability to mix on an Aux crosspoint selection, the Aux outputs can effectively and creatively be used to do away with the need for multiple M/Es, when creating different outputs for different screens or feeds at a live venue.
External Interfaces
External interfaces include GPI port supporting up to 24 inputs/outputs and two RS-422 ports as standard. The RS-422 ports support for connecting an HVS-30RU remote unit, tally expansion boxes, device specific VDCP, VTR, MFR routers, or TSL. An Ethernet port is used during PC control. An editor interface option allow to connect to an editor/automation system or other external control system.
GUI Control Function via Web Browser
An in-built Web server enables the settings of the HVS-100 and HVS-110 to be changed from a PC via a network. Mobile and tablet terminals can also be used through a wireless access point.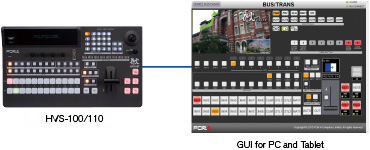 Redundant Power Supply
An optional redundant power supply unit enables doubling-up of power source (redundant AC adaptor for the HVS-110). An enlarged fan and improved exhaust process guarantee quiet operation.
4K (Ultra-HD) Switcher Capability
The HVS-100 and HVS-110 can be used as 4K switchers with HVS-100EXP3G. HVS-100 supports 2 inputs/1 output (expandable to 3 inputs/2 outputs with optional Input/Output cards). HVS-110 supports 3 inputs/2 outputs. In conjuction with MFR series, 4K input channels can be expanded. Cut and mix are provided as transitions.
Other
Safety area marker display
Color bar generator
Mat generator, etc.
The below features can be performed with the HVS-100/110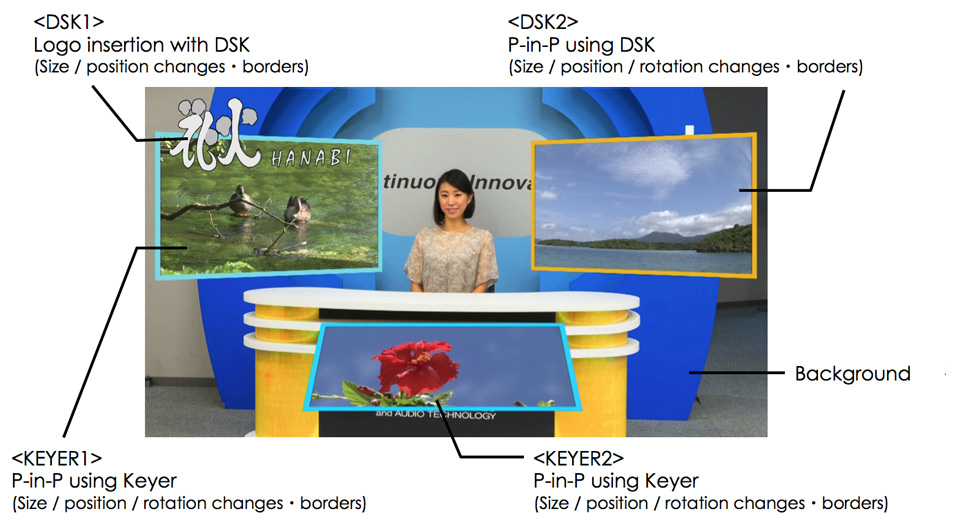 HVS-100/110 High-quality chroma keying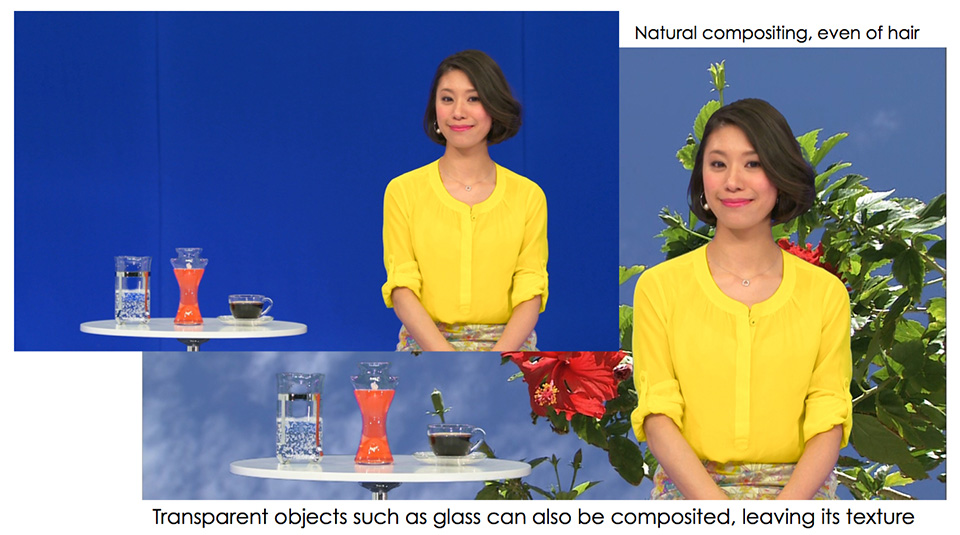 Key compositing to AUX, fade transitioning, simultaneous linked output operation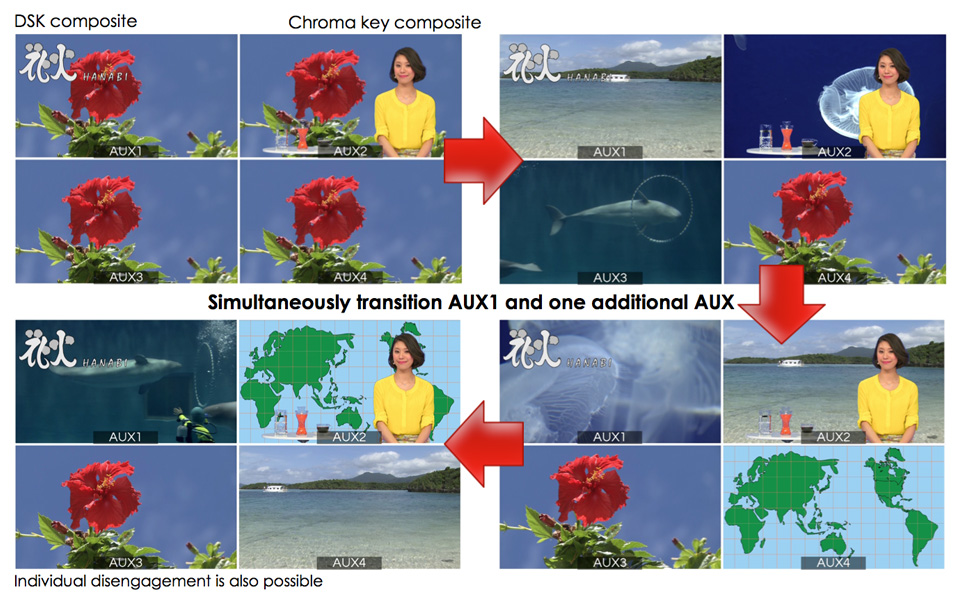 Multi-displays easily achieved
Easily implement animations that straddle the screens

Can be controlled from PC/tablet as standard feature (Operable without control panel)

GUI control reproduces the same operational feeling as via control panel

Clearly visible DVE parameter settings on GUI

Easily adjust border colors on GUI
Switch source images in one touch in Direct mode
Allows safe switching without operational errors, such as parameter changes.

Remote control example using Web GUI
Web GUI allows remote control anywhere, from any location.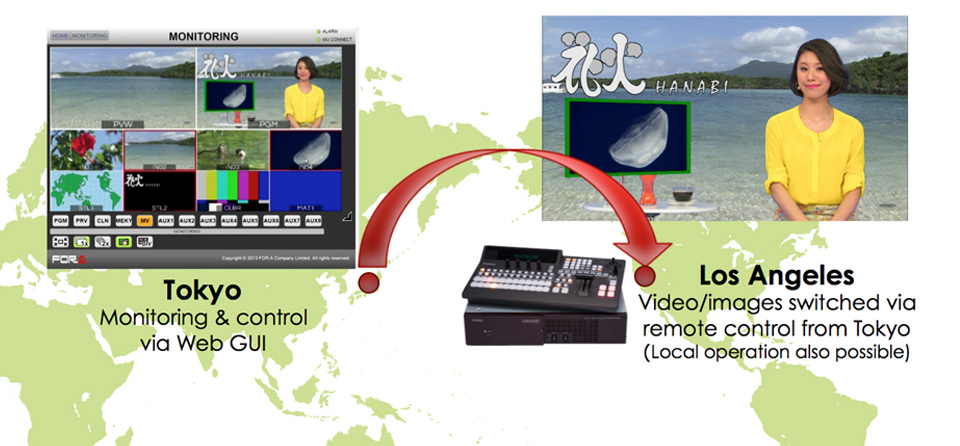 Input source names and tally link systems via TSL protocol
Easily control crosspoints, integrate source names and link tallies by integrating MFR Series routing switchers and MV Series multiviewers.